Weakfish Tagging Study
This study is now completed and results can be found in the following link to my dissertation.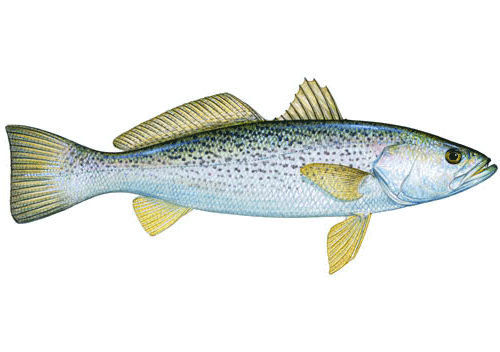 North Carolina State University researchers studied the movement and mortality of weakfish (A.K.A. – Gray trout, Squeteague, Sea trout, Tiderunner, Drummer) in North Carolina and Delaware Bay using advanced tagging and telemetry techniques to better understand the decline of the weakfish population across the northeast United States.
Tagged fish Our objectives are:
To estimate movement rates and stock boundaries of weakfish in North Carolina and Delaware
To estimate seasonal and annual rates of fishing mortality for legal-size weakfish in North Carolina
To estimate monthly natural mortality rates of weakfish in Morehead City/Bogue Sound through the use of telemetry tagging
To estimate apparent survival of weakfish in Delaware Bay through telemetry tagging
Study the diet of potential weakfish predators, such as common bottlenose dolphin
This work began in May 2014 and ended in May 2019. Funding comes from the NC Marine Resources Fund, which consists of proceeds from the sale of a Coastal Recreational Fishing License.
Principal Investigators are:
Dr. Jeff Buckel, Professor, Dept. of Applied Ecology, NCSU-CMAST
Dr. Joe Hightower, Professor, Dept. of Applied Ecology, NCSU; Asst. Leader of NC Cooperative Fish and Wildlife Research Unit; U.S. Geological Survey
Jacob Krause Postdoc Researcher, Dept. of Applied Ecology, NCSU-CMAST
---
Why Study Weakfish?
Weakfish is a recreationally, commercially, and ecologically important species in Delaware and North Carolina.  The recreational fishery has been especially important to Delaware where landings reached an all-time high of 2,205,140 pounds in 1983.  In North Carolina, the all-time high was in 1987 with 710,002 pounds.   In contrast, the commercial fishery has been more important to North Carolina where landings reached an all-time high of 15,091,878 pounds in 1988. In Delaware, landings were at an all-time high of only 1,294,500 pounds in 1981 (2013 Fisheries Management Plan Review for Weakfish).  Ecologically, weakfish fulfill the role of both a high-level predator and an abundant prey species (e.g. juveniles).
Weakfish (Cynoscion regalis) are at record lows according to the most recent stock assessment plan (Figure 1).  In response the Atlantic State Marine Fisheries Commission (ASFMC), who has jurisdiction of the stock, has implemented strict weakfish bag limits across their range (Figure 2).  The individual states ranging from Florida to Maine then manage the stock according to the ASFMC directives in their own state.
The cause for the decline of weakfish is currently unknown.  My research focuses on the possible reasons for the declines which include estimating both fishing and natural mortality.  Fishing mortality is estimated from the number of conventionally tagged returned fish from both commercial and recreational fishermen.  Natural mortality consists of predation (e.g. dolphins, spiny dogfish, striped bass) or environmental events (e.g. pollution), and can be estimated by tracking fish.  In larger systems such as Delaware Bay, the apparent survival can be estimated based on telemetry detections in the bay.  Through conventional tagging and telemetry, one can also learn about stock boundaries and mixing, and habitat preferences.  The knowledge gained with this study will allow weakfish stock assessment scientists to better manage the species.
---
Conventional Tagging
Numerous types of tags are available for externally tagging fish. The decision of which type to use depends on many factors, including cost, ease of use, and tag performance. Three commonly used tags that fishermen are familiar with are dart tags, t-bar tags, and internal anchor tags. The first two tag types are placed in the dorsal side of the fish, usually with the help of a tagging stick or gun. These tag types are often preferred by non-scientific tagging programs such as tournament tagging or volunteer angler tagging groups because they are relatively inexpensive and easy to insert.
The downside to these tag types is their poor retention, making them not ideal for use in long-term tagging programs. Dart and t-bar tags are reportedly retained on the scale of weeks to months, where as internal anchor tags, which are placed in the belly of the fish, are retained on a longer scale of months to years. The major drawbacks of internal anchor tags however, are their higher costs, slightly more difficult insertion, and arguably greater invasiveness on the fish. We are using internal anchor tags in this study because of their high retention but we are giving careful consideration to accounting for tag-induced mortality through preliminary tank experiments.
All weakfish that we tag are caught via hook-and-line. Mortality associated with this gear is generally lower for weakfish than other commonly used collection gears such as gill nets, trammel nets, and haul seines. Additionally, we are minimizing capture mortality by only tagging fish that are lipped/mouth-hooked and minimally handled. Tagging a large number of weakfish statewide and by hook-and-line capture is no easy feat, so we have enlisted the help of a select group of regional trout fishing experts to assist with our study. All taggers have undergone one-on-one training and all abide by the same established tagging protocol.
Double Tagging
In addition to estimating tag loss rates in controlled tank environments, we are also gathering data on tag loss from fish in the wild. This is done by double-tagging ~33% of all tagged fish. Tags are located on opposite sides of the body  and we are asking all fishermen to check fish for the presence of two tags or indication that one tag may have been lost. Photographs of tagged fish are extremely useful in our determinations of tag retention and tag-induced mortality.
---
Telemetry Tagging
Tagging fish with conventional external tags provide data on movement and mortality of weakfish over large spatial and temporal scales but the resolution of these data are limited. For example, we know where a fish was originally tagged and where it was later re-caught but we do not know the journey it took between those two points and can only speculate on the route it took and habitat types it used along that route.
Similarly, mortality attributable to natural factors such as predation may not be easily accounted for with conventional external tags. Sonic tags (i.e., telemetry) can complement conventional tagging by providing valuable information on fish aggregation, fine scale movement, habitat use, and by allowing for direct estimates of natural mortality and apparent survival. The trade-off is that telemetry studies can be temporally (e.g., battery life of transmitter) and spatially (e.g., range of transmitter) limited.
Transmitters are surgically implanted in weakfish (Picture 1), on-vessel at point-of-capture. Only fish greater than or equal to 12 inches in total length are used to carry transmitters which allows for a ~1-2% tag-weight to body-weight ratio.
Our telemetry tagging occurs each year Bogue Sound, North Carolina and the Delaware Bay (Picture 2-3). Over this time period, fish are tracked 24/7 by submersible receivers located throughout the region (Picture 4). Our goal with this work is to obtain fine-scale data on fish movement and habitat use in North Carolina.
---
Returning a Tag
Weakfish were tagged in North Carolina and Delaware. In North Carolina, fish were released state-wide, from Oregon Inlet to the Cape Fear River, and everywhere in between. In Delaware, fish were released in the southern half of the Bay. Tags were placed in any healthy fish greater than 12 inches in length that we capture, with a goal of tagging 1,500 individuals per year over three years.
We used an 'internal anchor tag' which was placed in the belly of the fish just behind the pelvic fin (Picture 1). This tag type allows for maximum retention over time. All tags used in this study were high reward red tags with a unique tag number (NCXXXX), telephone number, and a request to 'CUT TAG' (Picture 2).
To ensure accurate reporting of the tag number, ALL TAGS MUST BE CUT OFF AND MAILED IN FOR THE HIGH REWARD, even if fish is released. NOTE: about one-third of all of our tagged fish were double tagged, so please check both sides of the fish for tags. The double tags are to help us better understand tag retention and is further explained in Conventional Tagging.
Rewards for tagged weakfish — what should you report?
Once you've retained the red reward tag(s), please contact Jacob Krause at 1-800-790-2780. You will be asked to provide the following information: date of capture, location of capture, total length of the fish, how you caught the fish (recreational or commercially), whether the fish was released or kept, and overall health of the fish.
Any digital photographs of tagged fish will be extremely useful in our assessment of tagging mortality and tag retention. Please email any photographs of tagged weakfish to Jacob Krause at jrkrause@ncsu.edu.
In order to ensure timely processing of your reward, please mail the tag(s) to:
Jacob Krause
North Carolina State University
Center for Marine Sciences and Technology
303 College Circle
Morehead City, NC 28557
Since each red tag is worth $100, the rewards on a double-tagged fish would be $200. Once we have received your tag(s) in the mail, we will make a check payable to your name, with an enclosure on the original date of capture and tagging of the fish associated with your returned tag(s). Please allow 6-8 weeks for rewards to be processed.
This project depends on entirely on fishermen, so thank you to all those who have returned tags. If you have not caught a tagged fish, you can still help by spreading the word about this project. Feel free to download a pdf weakfish reward flyer, and look for our flyers across the coasts of North Carolina and Delaware!
---
Contact Information
To learn more about the NCSU Weakfish Tagging Study please contact Jacob Krause at 1-800-790-2780 or jrkrause@ncsu.edu.
---