Gervais' Beaked Whale Stranded in Emerald Isle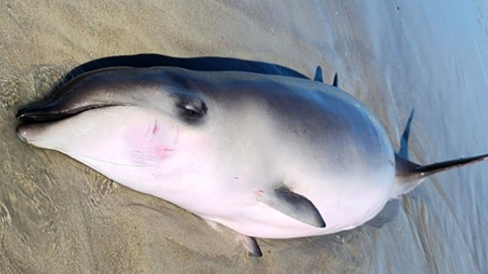 Morehead City, NC – A live Gervais' beaked whale (Mesoplodon europaeus) was reported by beachgoers to the NC Marine Mammal Stranding Network in shallow water in Emerald Isle the afternoon of October 30, 2023. The NC Marine Mammal Stranding team arrived at the beach and confirmed the animal was a 10' 9" (329 cm) long female calf and had expired.
Beaked whales are large, deep diving marine mammals. Little is known about Gervais' beaked whale social structure and life history. Live sightings are unusual because the normal habitat for these animals is at the continental shelf edge and beyond, and they spend most of their time under water.
With the assistance of helpful beachgoers, the Emerald Isle Public Works and the Emerald Isle Police Department, the dead stranded whale was removed from the surf. and transported to NC State University (NCSU) Center for Marine Sciences and Technology (CMAST) where it was chilled overnight. The following morning, October 31, 2023, the animal was necropsied by marine mammal scientists, veterinarians, and students from North Carolina State University CMAST, NCSU College of Veterinary Medicine, NC Aquariums, University of North Carolina Wilmington, Duke University Marine Laboratory, University of North Carolina Chapel Hill Institute of Marine Sciences, North Carolina Maritime Museum Bonehenge Whale Center, and the North Carolina Division of Marine Fisheries.
Approximately 125 marine mammals strand on NC beaches each year, including whales, dolphins, porpoises, seals, and manatees. There are many reasons that animals wash ashore. Some include natural causes such as infectious diseases, parasites, cancers, and starvation. Some causes are from human interactions including entanglement in fishing gear (active and ghost), ship and boat strikes, and ingestion of plastic. Unfortunately, this young female whale died due to ingestion of plastic.
The collaborative team examined every tissue of this young whale during the necropsy, and all appeared normal until the stomach was opened. In addition to some milk (indicating the female was a nursing calf), a pentagonal plastic balloon was discovered, crumpled up and obstructing the passage of digesta to the rest of the gastrointestinal tract.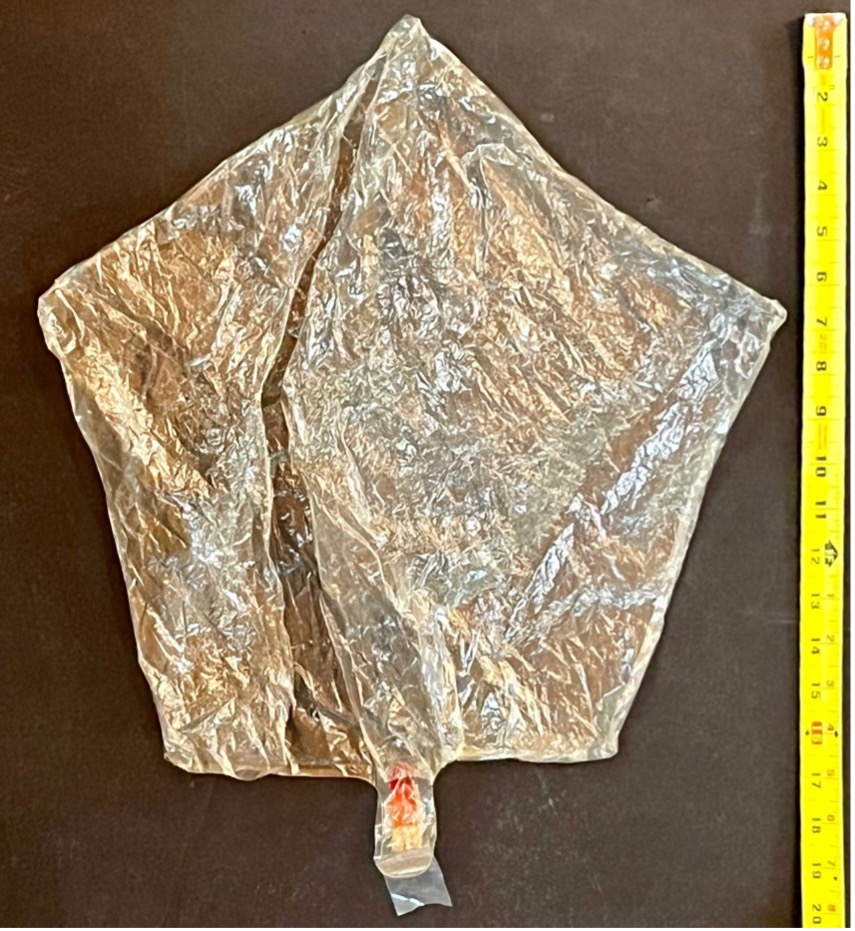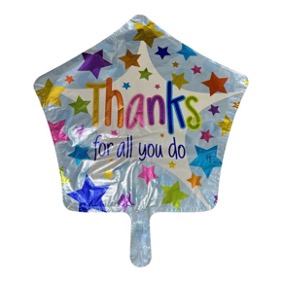 Before purchasing balloons to commemorate important life events (whether they are latex or Mylar), please consider using biodegradable alternatives instead. Biodegradable paper decorations are more eco-friendly and often less expensive. Though people often release balloons to remember and honor loved ones, we urge people to consider other methods (lighting a candle, scattering flower petals, etc.) to commemorate their loved ones instead. If you do purchase balloons, whether latex or Mylar®, please dispose of them properly and carefully. Please make sure all gases have been removed from balloons prior to discarding. This can avoid them getting 'loose' and posing an unnecessary and tragic danger, causing wildlife to starve and perish over time, as in the case of this unfortunate Gervais' beaked whale.
To report a live or dead stranded marine mammal:
NC Outer Banks, call: 252.455.9654
Central NC coast, call: 252.241.5119
Southern NC coast, call: 910.515.7354