Background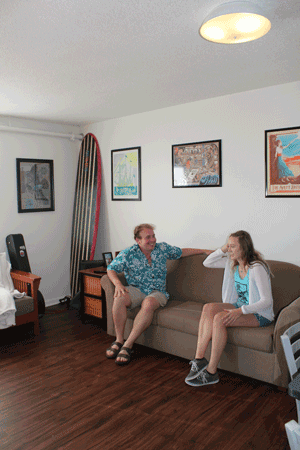 Located ~ 0.5 miles from CMAST in Morehead City, the CMAST Coastal Quarters is a 13-unit, 12,000 ft2 Apartment Complex. There are 9 two bedroom duplex units with the kitchen, washer/dryer, living room, and ½ bath on the first floor, and two bedrooms with attached bathrooms and closet spaces on the second floor.
There are two single bedroom units with full kitchens, washer and dryer and 1 ½ baths (unit #'s 12 and 13), and an additional two, 1-bedroom units that can accommodate ADA needs (unit #'s 10 and 11). During 2016 and 2017, the units were renovated by NC State Housing and Facilities to bring them up to state building code, such as adding a fire alarm and sprinkler system linked to monitoring by NC State, as well as updates to the units such as new appliances where necessary. All units have WiFi, and adequate parking is available.
Need and Use
Housing is necessary to (1) provide cost-effective lodging on a short-term basis, which will allow students to gain valuable educational and hands-on research experiences at the coast, (2) allow faculty to better use CMAST as a teaching and research tool, and (3) create a living and learning environment at CMAST where visiting faculty, staff and students bring new energy to and exchange ideas with CMAST Programs.
Housing Requests
All housing requests are handled by NC State University Housing.

Accommodations are exclusively for use by students, faculty, staff, guests, and affiliates while conducting business or participating in an academic program affiliated with NC State University's Center for Marine Sciences and Technology (CMAST).

Individuals, including NC State affiliates, are NOT permitted to stay at Coastal Quarters during periods when they are not participating in a university-affiliated program hosted in Morehead City.

Coastal Quarters is not available for leisure accommodations, regardless of university affiliation.