People
Graduate Students
Brendan Runde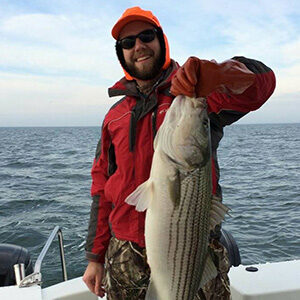 For decades, fishery managers in the US southeast and around the globe have struggled to find a solution to the downward trend in stocks of deepwater reef fishes. This fishery is comprised of generally long-lived bottom-dwelling species, many of which have historical value as food fish. High rates of bycatch and associated mortality have resulted in the decline and near-extirpation of some species that were once prevalent, which has caused a paradigm shift in the availability of these fish to recreational and commercial fishers alike. My dissertation research compares two management options that are frequently touted as solutions to a variety of problems in marine fisheries (including imperilment of deepwater reef fishes): spatial closures and modification to gear or release procedure.For more information, please visit: https://appliedecology.cals.ncsu.edu/graduate-students/brendan-runde/
Riley Gallagher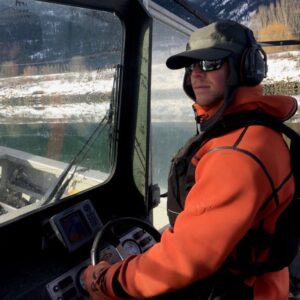 Riley's research interests focus on sport fisheries ecology and conservation. He is specifically interested in understanding population genetics and life history adaptability of cobia in coastal North Carolina and Virginia waters. Riley joined the Buckel lab in 2017 as a M.S. candidate to investigate the population structure of cobia using acoustic telemetry and genetic analysis. Riley and Jacob Kause are working collaboratively with state and federal agencies on the cobia project as part of a larger coast-wide program. The population structure of cobia on the US east coast is not clearly defined. The goal of this program is to determine where boundaries should be drawn for stock assessments and management of US east coast cobia.
Thesis Topic: Estimate the population structure of Cobia using acoustic telemetry and genetic data in coastal North Carolina and Virginia. Visit Riley's page here.
Riley can be contacted at: rgallag2@ncsu.edu
Thom Teears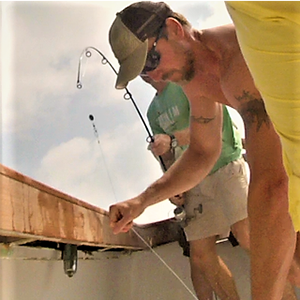 Thom's interest focuses on learning more about fisheries and aquatic ecological relationships in order to inform fisheries resource stewardship and conservation. He is currently working on a southeast coast-wide stock assessment of Sheepshead as a North Carolina Sea Grant Fellow in collaboration with the North Carolina Division of Marine Fisheries as well as other scientists from southeastern Atlantic states. He utilizes quantitative methods to understand fish stock dynamics by exploring various data-limited stock assessment approaches using established and developing technologies. He also is interested in learning more about the biological and ecological interactions used in estimating fish stock dynamics parameters.
Thom can be contacted at tdteears@ncsu.edu
Other Personnel
Dr. Paul Rudershausen
Research Scholar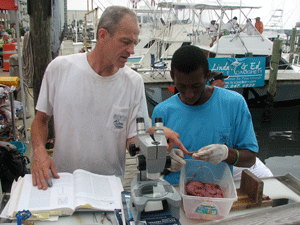 Paul is the lead on several projects in the lab. Currently, he is comparing circle and j hook performance in the dolphinfish, yellowfin tuna, and wahoo fishery; estimating discard mortality in reef fishes using tag returns; and using hydroacoustics and traditional fish sampling gear to test alternative strategies to index adult snapper-grouper species.
Paul can be contacted at 252.222.6342 or pjruders@ncsu.edu
Jeffery Merrell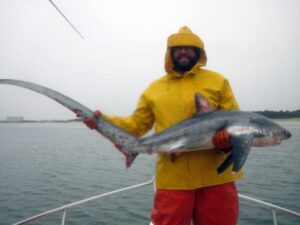 Jeffery is a local to Carteret County and has worked on or around the water the majority of his life. He received his BS in Biology from East Carolina University in 2004. After graduation, Jeffery spent six months as a temporary Fisheries Field and Laboratory Technician at CMAST before being hired on with the North Carolina Division of Marine Fisheries as a Marine Fisheries Technician doing a stock assessment in Pamlico Sound. Currently, Jeffery assists our graduate students with their research as needed, whether its gathering data in the field, working up samples within the lab, or helping with data entry and analysis.
Jeffery can be contacted at jhmerrel@ncsu.edu