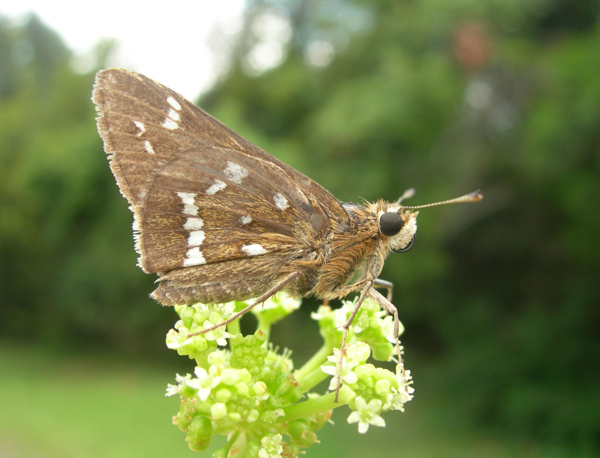 The Crystal skipper is a small brown butterfly endemic to 30-mile stretch of barrier islands in North Carolina between Fort Macon State Park and Hammocks Beach State Park. This butterfly gets its name from the small white "crystals" that dot its brown wings. While the crystal skipper is sometimes mistaken for a moth, it belongs to a group of butterflies called skippers. Skippers are typically stockier and duller compared to many of the butterflies with which people are more familiar.
The North Carolina coast has its own species of butterfly – the Crystal skipper. Though first collected in 1978, it was not formally described as a new species Atrytonopsis quinteri until 2015. This small brown butterfly can be found around sand dunes along the Crystal Coast from April to May, and again from July to August.
The skipper is endemic to just a 50 kilometer stretch from Bear Island to Fort Macon State Park, and its total range is less than 3,300 ha. Unfortunately, the skipper is experiencing habitat fragmentation due to urban development, as much of its range overlaps with human activities, buildings and homes.
My students and I work with an interdisciplinary research team to conduct butterfly counts, vegetation surveys and habitat restoration projects to help support the Crystal skipper population.
Partners include North Carolina Aquariums, NC State University CMAST, Michigan State University, the US Fish and Wildlife Service, North Carolina Sea Grant, the North Carolina Botanical Garden, and the Master Gardeners.
In 2018 and 2019, we conducted vegetation surveys at six sites along Bogue Banks to assess the extent of seaside little bluestem, the skipper's required host plant. Seaside little bluestem seed collection and propagation has enabled the team to plant over 1000 plants in areas where it was sparse.
In 2019, our vegetation surveys examined the impacts of Hurricane Florence on bluestem density and distribution. The results reflect the scouring effect of the hurricane and, combined with skipper surveys, helped us identify areas in need of additional restoration work.
The host and nectar plants required by the skipper are common dune plants. In Summer 2019, we partnered with the NC Botanical Garden to collect seeds from seaside little bluestem and other common dune plants that provide nectar for the Crystal skipper. These are being grown out for planting in the Fall of 2020.
There is great potential to engage students, property owners and beach municipalities in habitat restoration to benefit skippers and other native dune species.