Birds Receive Annual Exams at the Aquarium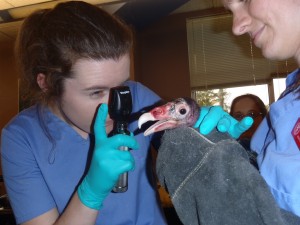 The birds at the NC Aquarium at Pine Knoll Shores (NCAPKS) recently received annual exams to evaluate their health status.
The veterinary care for the Aquarium is routinely provided by Dr. Craig Harms and zoological medicine residents from the College of Veterinary Medicine based out of NCSU-CMAST. However, there are occasions for capitalizing on the expertise of veterinarians from the NCSU-CVM Veterinary Health Complex in Raleigh and to provide additional learning experiences for veterinary students.
Dr. Laurel Degernes (ABVP-Avian) traveled to the coast with five fourth year students participating in a two week advanced avian clinical medicine rotation, to assist with the examinations of 12 birds at NCAPKS. The bird collection consists of rescued non-releasable pelicans, owls, vultures, hawks, a kestrel and a laughing gull.
These birds are part of an educational bird program that runs during the summer months at the Aquarium. Each bird is given a full physical examination to evaluate their body condition, auscultation of the heart and lungs, feathers, skin, nares, beak, eyes, ears, and throat, as well as the bones and muscles, abdomen, vent, and feet.
Hands-on time with the birds and interaction with the Aquarium staff that are responsible for their daily husbandry, offer a unique learning environment for the veterinary students, and enlisting specialists from the NCSU-CVM enhances the veterinary care for the avian collection at the Aquarium. (Story by Heather Broadhurst)