CMAST Holds Open House to Announce New MMRI Facility & Other Programs
(Story by Mike Shutak, originally appearing in the Carteret County News-Times)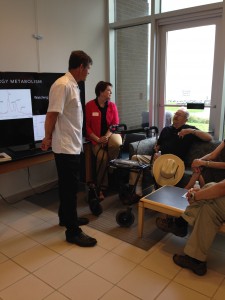 One of the newest facilities at CMAST offers new opportunities for research, and new programs at the center offer new opportunities for learning and industry innovation.This was the message for those invited to an open house held June 20 at CMAST. The center invited potential and existing partners to a showcase of some of the latest developments so they could see the opportunities and services CMAST has to offer the research community, various industries and students and schools.
Dr. David Eggleston, CMAST director, said every time they have an open house he's blown away by the diversity of their programs.
"We're fortunate to have a lot of productive parterships," he said.
One of the newest developments at CMAST is its marine magnetic resonance facility. The MMRF is a machine that uses electromagnets to scan marine research specimens for various chamicals, creating a visual image of the object with the data. The technology is very similar to that used in medical radiology.
Dr. Michael Stoskopf of the NCSU Department of Clinical Sciences is in charge of the new facility, which he said is the only one of its kind in the world.
"We're definitely state-of-the-art," he said. "We're the only institute with something like this. It epitomizes the purpose of CMAST: to bring science and technology to bear against coastal issues."
The facility was completed last October. Dr. Stoskopf said so far they've beebn using it to study oysters, which make good live specimens because they don't move.
"I envision using this in place of chemical tests for blood tests and diagnostics," he said. "We're very interested in aquaculture and mariculture. We're going into microscopic imaging next."
This new facility is the primary focus of CMAST's partnership with the Marine Bio-Technologies Center of Innovation. The center is a nonprofit created to help translate innovative, marine-related discoveries into products and services.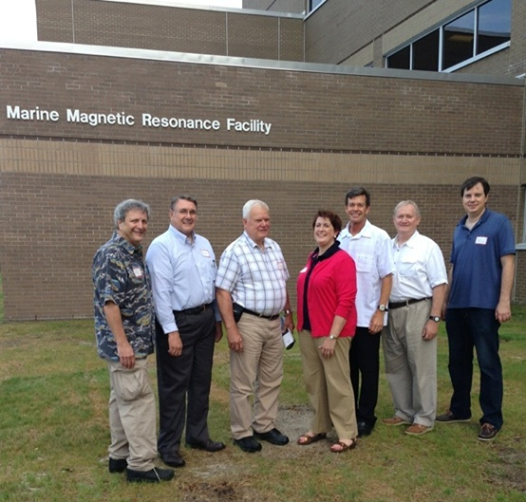 Dr. Roy Carter, director of the the Center of Innovation, was at the open house to tell people about the center's work with CMAST. He said the new MMRF is the area his center is focusing on marketing right now.
"We want to help the facility attract industry users," he said. "Industry would have a lot of interest if they knew about it, but it has to be done without interfering with the academic work."
Dr. Carter said he's been telling his industry contacts, particularly in agricultural biotechnology, about the MMRF. He said the facility has very unique technology that can do what many agricultural companies' in-house technology can't.
"The people here will let you put a corn plant in (the MMRF) where hospitals won't," he said. "It's understanding industry needs. I know this can help answer some major questions; you can compare normal plants to genetically altered plants."
Another program that shares space with CMAST is N.C. Sea Grant, the state branch of a national nonprofit organization that provides research, education and outreach opportunities relating to current issues affecting the state's coast and its communities. One of N.C. Sea Grant's current projects is N.C. Catch, a group whose goal is to unite local commercial fishermen's catch groups like Carteret Catch.
Barry Nash, Sea Grant seafood technology and marketing specialist, said they're looking at ways to help the seafood industry use new technology.
They've developed a brochure to help watermen find ways to use the Internet to help their businesses, as well as newsletters on developing products marketed toward people with limited time to cook.
"We've funded a project with Dr. James Morris of NOAA," Mr. Nash said, referring to the National Oceanic and Atmospheric Administration, which has a lab on Pivers Island in Beaufort and is where Dr. Morris works. "We've selected a number of traps to test on harvesting lionfish; not only could we control the invasive species, there's a chance of turning it into a profitable product for the market."
Sea Grant has also been working on developing inland markets and helping small distributors get seafood to restaurants in the Triangle area.
CMAST has things to offer not just to scientists and companies but also to local schools. Dr. Pat Curley, director of K-12 outreach at CMAST, came last August to establish a branch of The Science House, a NCSU program to motivate and prepare K-12 students to study and work in science technology, engineering and mathematics fields. "We're really focused on delivering coastal science to local teachers," Dr. Curley said. "We do a lot of student outreach."
It's not just K-12 students Dr. Curley's been working with. After identifying a need for after school programs for science and technology in the area, he worked with N.C. Sea Grant to develop the Sea Wolves, a 4-H group for high school students that provides leadership and hands-on science activities.
Several of the Sea Wolves were at the open house, providing a demonstration of one of their projecgts. The Sea Wolves were building a small submersible robot with parts Dr. Curley provided. The exercise required the Sea Wolves to build a robot that could perform a task in a tank of water — in this case, collecting a set of rings without surfacing.
As of June 20, the Sea Wolves have five to six members. Among them is Sabrina Carraway of Newport, a rising senior at East Carteret High School who was elected president of the Sea Wolves.
"When I joined, I didn't know exactly what it was," Ms. Carraway said. "I've always been drawn to science groups, though. We didn't have a group to start with; we needed a president, and I was up to the challenge. The Sea Wolves are allowed to develop their own schedule of projects. In the near future, the groups is planning to host a teen Coastal Café, and event where kids from local schools will meet with local scientists at an informal get-together.