Dr. Pat Curley, Director of The Science House @ CMAST, named Outstanding Veteran of the Year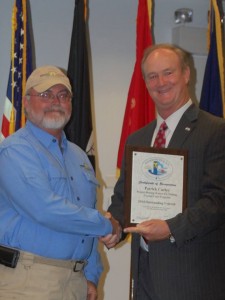 Each year, the city of Jacksonville North Carolina seeks nominations from local veterans groups to recognize the area's "outstanding veteran of the year." Those nominated, and selected, receive a Veteran of the Year certificate and an "outstanding citizen" pin from the Jacksonville city council.
This year, one of those recognized was Dr. Pat Curley, Program Leader of our great Crystal Coast Project Healing Waters program. His dedication and tireless efforts supporting the area's veterans through PHWFF have been tremendous since the programs inception. Pat is the director of The Science House @ CMAST.
Congratulations, Dr. Curley!