CMAST Director Dr. David Eggleston Receives Distinguished Alumni Award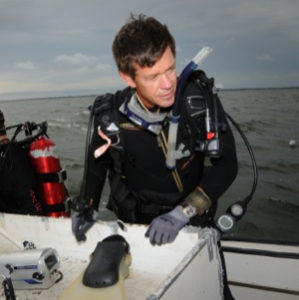 (MAR 11, 2015) CMAST Director Dr. David Eggleston has been selected to receive the NC State Alumni Distinguished Undergraduate Professor Award for 2014-2015. This award recognizes service as an outstanding teacher at NC State.
Only two faculty who are members of the Academy of Outstanding Teachers may be nominated by each college, and only faculty members who have provided long-term, distinguished serice in undergraduate teaching at NC State are considered for this award.
Dr. Eggleston will receive this award and certificate during the Alumni Association's awards ceremony and reception on April 15 at the Park Alumni Center. In addition, Dr. Eggleston will be recognized as an Alumni Distinguished Undergraduate Professor in the NC State Spring 2015 Commencement Program.