Sea Wolves Attend Stranding Training in April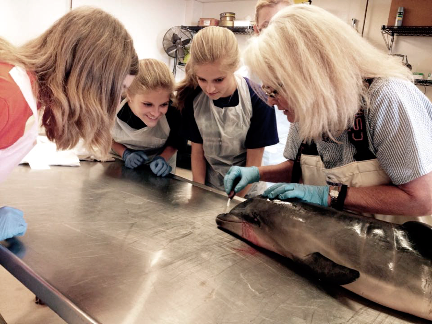 Students who participated in The Science House @ CMAST's Sea Wolf program in April attended marine mammal stranding training, including a necropsy on a newborn dolphin.
The Sea Wolves is a 4H Program for Middle and High School students interested in Environmental and Marine Sciences.
One of the many educational outreach programs offered by The Science House at CMAST, the Sea Wolves hold monthly meetings at CMAST on the first and third Tuesdays at 5:30 pm. They focus on activities centered on coastal marine sciences and leadership.
The Sea Wolves recently competed in the Coastal Envirothon in New Bern and placed at the top of the teams from Area 6 of the NC Association of Soil and Water Districts, qualifying them to move on to the State competition.
All interested students who are in grades 9-12 or completing the 8th Grade are invited to contact the group's advisor, Dr. Pat Curley at pwcurley@ncsu.edu.