The Coastal Reserve welcomes Margaret A. Davidson Fellow recipient, Daniel Bowling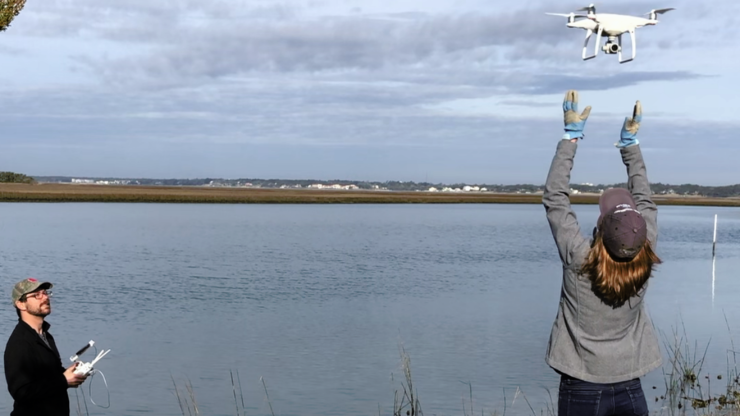 Reprinted from North Carolina Department of Environmental Quality.
The North Carolina Coastal Reserve & National Estuarine Research Reserve welcomes NOAA Margaret A. Davidson Fellow recipient Daniel Bowling, a PhD student at North Carolina State University, to the Reserve.
Through this fellowship, Daniel will assess the effectiveness of using remote sensing to monitor intertidal oyster habitat. This fellowship will advance his dissertation research working to develop methods for a fishery-independent survey program for oysters in North Carolina.
According to recent estimates, North Carolina has nearly 5,000 acres of intertidal oyster reef habitat, but reefs are often hard to access, and mapping is very labor intensive. Daniel will help develop an approach that uses remote sensing to map the distribution of intertidal oyster reefs with unoccupied aircraft systems (drones) and high-resolution satellite imagery. Using on-the-ground sampling paired with high resolution aerial imagery, he will verify the efficacy of employing remote sensing to measure the distribution and health of intertidal oyster habitat at the Rachel Carson Reserve. He will automate analysis methods and use machine learning to measure reef area and condition in a fraction of the time that it currently takes to map individual reefs. Daniel will also develop a model to generate sample designs to support future coast-wide population assessments and for reserve sites to be able to quickly detect and respond to changes in habitat health.
Daniel's research will provide the information and analytical tools to facilitate the development of new population assessment techniques for the Reserve's resource managers and beyond. He has already engaged with a stakeholder committee comprised of North Carolina Division of Marine Fisheries, North Carolina Coastal Federation, The Nature Conservancy, commercial fishermen, and academic partners. Through this partnership, he will ensure that mapping protocols and proposed sampling design also meet the needs of the Division of Marine Fisheries to sustainably manage the North Carolina's oyster fishery.
He also plans to provide hands-on research experiences for undergraduates during the summer through the NCSU's Bob Simpson Minority Scholars program, which provides opportunities for North Carolina undergraduate students who identify as belonging to groups that are typically underrepresented in marine science.
About Daniel Bowling
Daniel Bowling is a PhD student in Marine, Earth, and Atmospheric Sciences Department at North Carolina State University. He holds a B.S. in Environmental Science and Marine Biology from the University of North Carolina at Wilmington. He spent many years working and conducting research abroad in Australia and Fiji where he worked with local communities, NGOs, government, universities, and tourism to address local and regional issues, protect critical habitats, study endangered and vulnerable species, and conduct education and community outreach.
About the Margaret A. Davidson Graduate Fellowship Program
The Margaret A. Davidson Graduate Fellowship provides funding to graduate students to conduct estuarine research within one of the 30 reserves in NOAA's National Estuarine Research Reserve System. Fellows address a key coastal management question to help scientists and communities understand coastal challenges that may influence future policy and management strategies.
Each fellow develops a meaningful cross-discipline research project in conjunction with scientists, community leaders, and other organizations. They engage in networking opportunities with fellows at other reserves, plus other professionals across the reserve system, NOAA, and community partners. Davidson Fellows receive professional guidance and mentoring in a variety of disciplines, including facilitation and communication, and they facilitate the development of research partnerships between universities and the Reserve.
Honoring the legacy of leadership and service to coastal communities modeled by Margaret Adelia Davidson in her over 30 years at NOAA, the overarching goal of the Davidson Graduate Fellowship program is to help train the next generation of coastal managers.