Shark Awareness and Conservation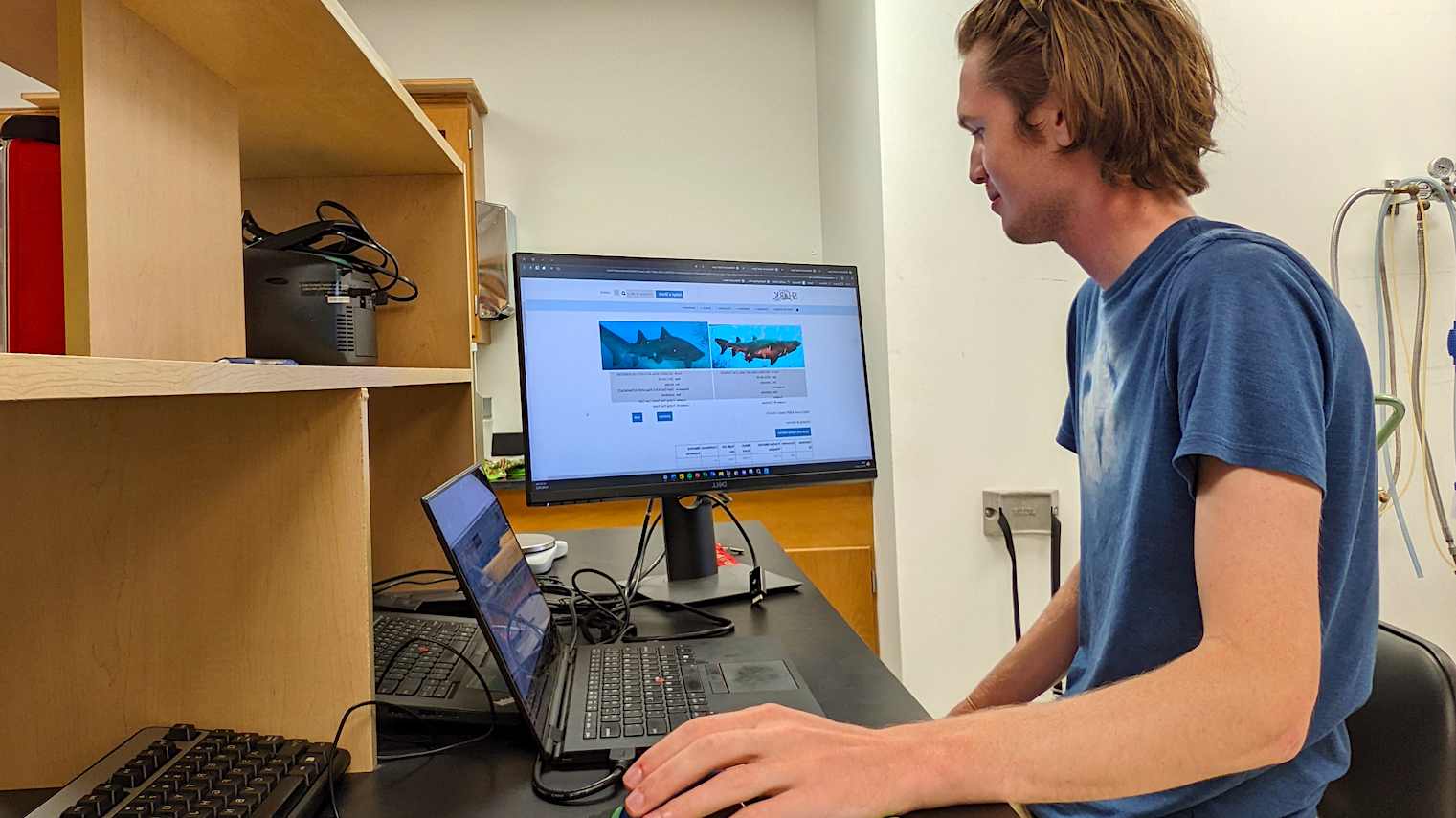 Ben Regester, a summer fellow at the NC State University Center for Marine Sciences and Technology (CMAST), spent his summer tracking sharks. Ben was part of a conservation team led by Dr. Carol Price, Instructor, NC State University and Conservation Research Coordinator, NC Aquariums, in an effort to track sand tiger shark sightings through Spot A Shark USA, which helps with their conservation efforts.
The Spot A Shark USA program encourages divers to photograph sand tiger sharks while diving in the Atlantic Ocean. These photos are posted on the Spot A Shark USA website, where researchers like Ben identify and use spot patterns on the sides of the sharks to identify them. Ben says identifying and tracking individual sand tiger sharks this way helps track their movement, behavior, and habitats over a period of time – information that helps researchers make informed decisions regarding conservation efforts of these endangered sharks.
Dive shops are often willing to allow divers to upload their shark photos into the Spot A Shark database. Local dive shops, such as Olympus and Discovery, allowed the CMAST Spot A Shark conservation team to chat with diving customers about the program and upload their shark photos to the Spot A Shark software as they come in from a day's dive. Afterwards, Ben and his team members got to work on mapping the sharks' spots and identifying them individually.
Ben says while most people think of sharks as a nuisance to be avoided, sharks are actually essential to our oceans. He says, "Sharks are responsible for regulating the entire underwater ecosystem and there is a [negative] cascading effect on the ecosystem when they are disturbed, which is why the conservation of our sharks is so important." Ben added 100 new sharks to the Spot A Shark database this summer and identified three shark matches, which will help with future shark conservation.