Dolphin Stranded at Emerald Isle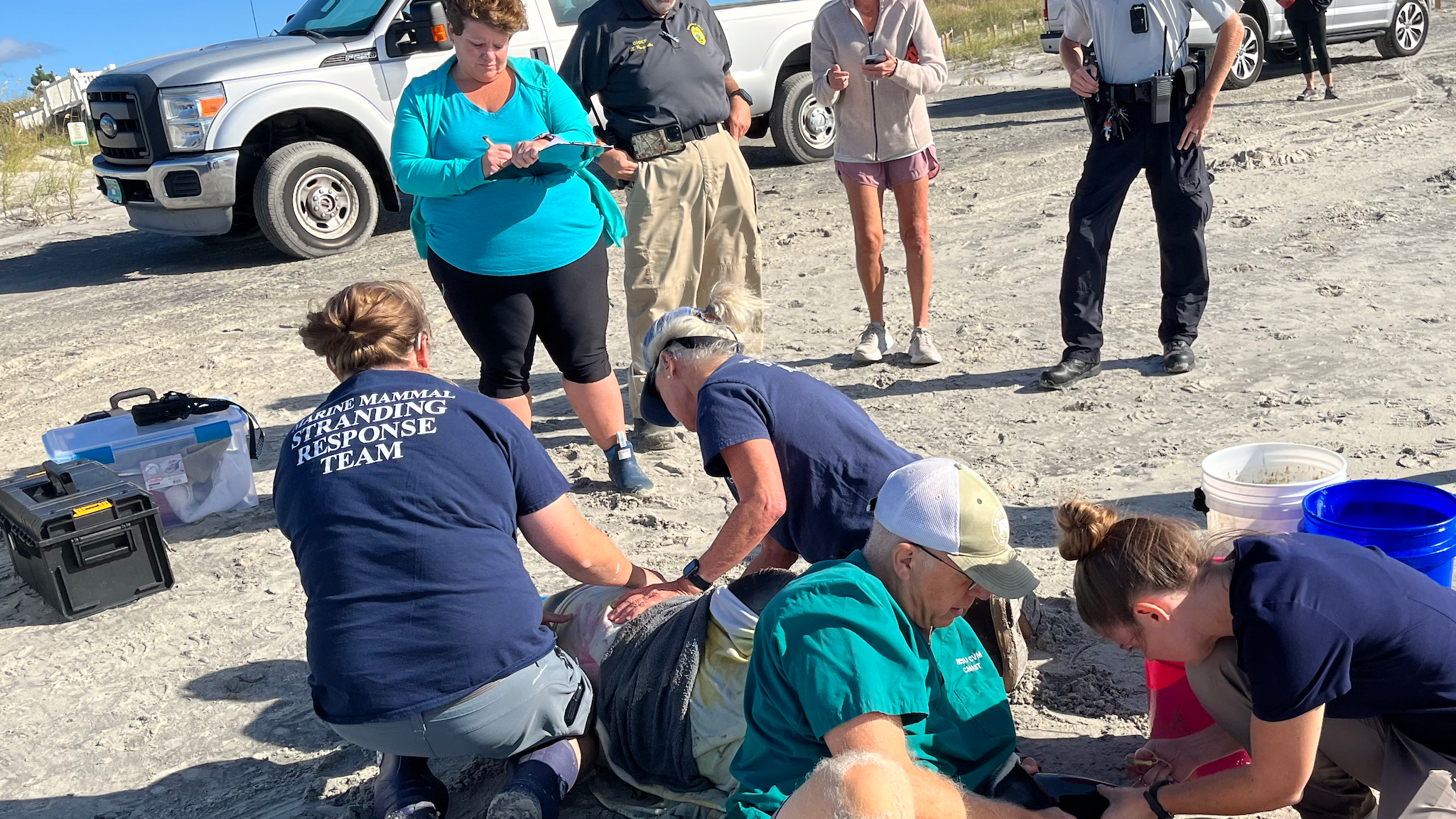 A yearling male bottlenose dolphin stranded on Emerald Isle was reported by Dale Baquer, Emerald Isle Sea Turtle Program Coordinator and Michael Panzarella, Emerald Isle Police Chief on Saturday morning.
Dr. Vicky Thayer, NC Stranding Coordinator for NC Division of Marine Fisheries, Jill Sullivan, NC Stranding Assistant for NC Division of Marine Fisheries, NC State CMAST Veterinarian Dr. Craig Harms, Dr. Emily Christiansen, NC Aquarium veterinarian, NC State Veterinary Resident Dr. Megan Cabot, Mr. Keith Rittmaster, Director of Bonehenge Whale Center Director, and Bayley McKeon, Bonehenge Whale Center volunteer, NC Aquarium Pine Knoll Shores, were also at the live stranding.
Unfortunately, the dolphin had to be euthanized, and a necropsy was conducted at CMAST on Sunday, with 27 students in Dr. Andy Read's Marine Mammal Class from Duke attending.
During the necropsy, Dr. Harms, Dr. Cabot, Jill Sullivan, Bayley McKeon, and Dr. Thayer, discovered evidence of dehydration, blunt force trauma and tooth rakes (both likely from another bottlenose dolphin), an enlarged spleen, and an empty stomach. No other dolphins were seen in the area at the time of the stranding, and the dolphin was too young to survive on its own, as it was likely still nursing.