International Day of Veterinary Medicine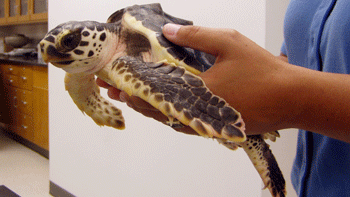 Join the NC State Center for Marine Sciences and Technology (CMAST) in recognizing its staff veterinarians today during the International Day of Veterinary Medicine. CMAST veterinarians include: Drs. Craig Harms, Michael Stoskopf, Maria Serrano, Nick Dannemiller (Zoological Medicine Resident), Emily Christiansen (NC Aquariums/CMAST), and Lori Westmoreland (NC Aquariums/CMAST).
The CMAST Aquatic Animal Health group, led by Dr. Craig Harms, investigates marine mammal and sea turtle morbidity and mortality, identifies pathogens and parasites of aquatic animals, and conducts clinically-applied research aimed at improving the health and welfare of captive aquatic animals.
For example, last week, CMAST received twenty-one green turtles and Kemp's ridley turtles from New England as overflow from the onset of sea turtle cold stunning. The New England turtles were flown into the Michael J. Smith Airport in Beaufort via the volunteer program, "Turtles Fly Too".
CMAST veterinarians assessed the turtles, administered necessary treatments, and distributed them to the NC Aquariums and Karen Beasley Sea Turtle Rescue & Rehabilitation Center for rehabilitation. Dr. Harms says, "Every year New England has more cold stunned turtles than they can rehabilitate locally, so they send many to other sea turtle rehabilitation facilities. We accept some every year, but we have to be careful not to take too many, because our sea turtle cold stunning season will begin here soon enough, and we have to maintain capacity to accept, treat and rehabilitate those too."