CMAST Receives Excellent Five-Year Review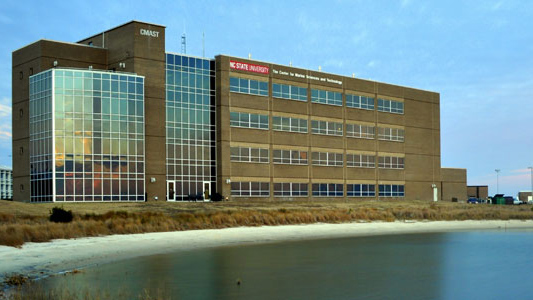 The NC State University Center for Marine Science and Technology (CMAST) recently completed its five-year external review. CMAST virtually presented its self-study to the Research Development Office on February 1, which submitted its findings earlier this month.
During the review, committee members had the opportunity to meet with the CMAST Director, Dr. David Eggleston, tour the facility's research and teaching labs, talk to graduate students, watch a presentation on activities and educational programs, attend a panel discussion with faculty, and discuss CMAST with its stakeholders.
The review took place after an extensive study based on a series of yes or no questions and elaborations, all of which were answered positively. One specific question, "Are the Center or Institute clients being served?" resulted in a lengthy list of positive comments from stakeholders.
The Five-year External Review Committee, comprised of Sue Eubanks, Larisa Avens, and Clark Alexander, said, "The number of stakeholders who volunteered their time to speak about CMAST engagement in diverse partner interests and concerns was remarkable, as was the number of times individuals mentioned that they did not know how fundamental needs would be met, if CMAST collaborators and collaboration were absent. This sentiment was best summed up in one participant's comment that 'the local region was a hub for marine sciences, but CMAST [is] the leader in applied marine research in the state.'"