Natural History Class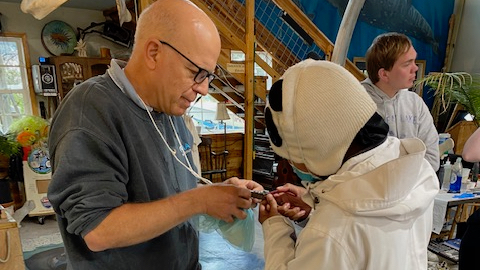 NC State University Semester at CMAST undergraduate students recently participated in a field course titled, Natural History of Coastal NC. The purpose of the week-long course, taught by Dr. Vicky Thayer, is to introduce students to native NC barrier island and estuarine flora and fauna.
On day one of the course, students met with Jon Altman, Cape Lookout National Seashore Biologist, at Harkers Island Cape Lookout National Seashore Visitor Center, to learn about Barrier Island dunes, birds, wild horses, and history.
Students rode the ferry to Shackleford Banks and later, hiked on South Core and Lighthouse Keeper's Quarters. Park Biologist Jon Altman taught students about the history of Cape Lookout, where they saw piping plovers and horses on Shackelford and learned about the Cape Lookout lighthouse and lifesaving on South Core Banks. Altman described sea turtle nesting monitoring and research, as well.

Students also visited Core Sound museum and read about the history of hurricanes that have impacted North Carolina and then met Dr. Craig Harms and Dr. Nick Dannemiller at Gallants Channel where the students helped band seven Carolina chickadees and one mourning dove.