Advanced Fish Medicine Course Returns to CMAST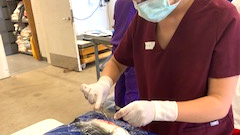 This week, eighteen NC State University veterinary medicine students visited the Center for Marine Science and Technology (CMAST) to take part in a week-long special topic Advanced Fish Medicine Selective course.
Students had the opportunity to go beach seining and explore diagnostic techniques with fish they caught, specifically evaluating them for external parasites. . In addition, they conducted water quality testing on several mystery samples, trying to identify source of the water, any problems that would affect fish health, and how to rectify the problem, if present. In other learning activities, students administered anesthesia and performed surgery on striped bass, as well as further diagnostics. Students also toured life-support systems at the NC Aquarium at Pine Knoll Shores.
One student says the course will be valuable for her future career in aquatic veterinary medicine. "This hands-on course experience provides an invaluable resource for those interested in [this field]. I highly recommend it."