Cao Selected for Goodnight Award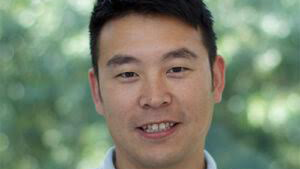 Jie Cao, assistant professor at the Center for Marine Sciences and Technology (CMAST), has been named an NC State University 2022-2023 Goodnight Early Career Innovator.  The Goodnight Early Career Innovators Award program, which began in 2021 and is sponsored by the Provost's Office, provides tenure-track assistant professors in STEM or STEM education research and innovation, with a $66,000 award ($22,000 per year over a three-year period) to support their research.  The funds can be used for research materials, professional travel, scholarly publications, support for students or faculty working with the professor, including stipends for summer salaries.
The selection process for the Goodnight Early Career Innovator awards is rigorous. Candidates must show early career promise in research and innovation, scholarly publication, external funding, or recognition as a potential career leader in their field. Cao was one of ten nominees from The College of Agriculture and Life Sciences (CALS). Once he was selected by CALS, Cao competed with other assistant professors across the University and was eventually chosen by a committee comprised of STEM faculty as one of twenty-five early career faculty to receive the award.
Cao's research focuses on quantitative fisheries ecology, emphasizing population dynamics and ecosystem modeling. He evaluates and develops quantitative techniques for assessing the past and current status of fish and invertebrate populations, which includes optimizing sampling schemes, developing more biologically realistic assessment models, estimating biological processes that vary over space and time, evaluating management strategies, and exploring how to manage marine populations in the face of climate change. The results are used to inform management decision-making in US and international marine management bodies.