CMAST Collaborates with NOAA to Tag Sea Turtles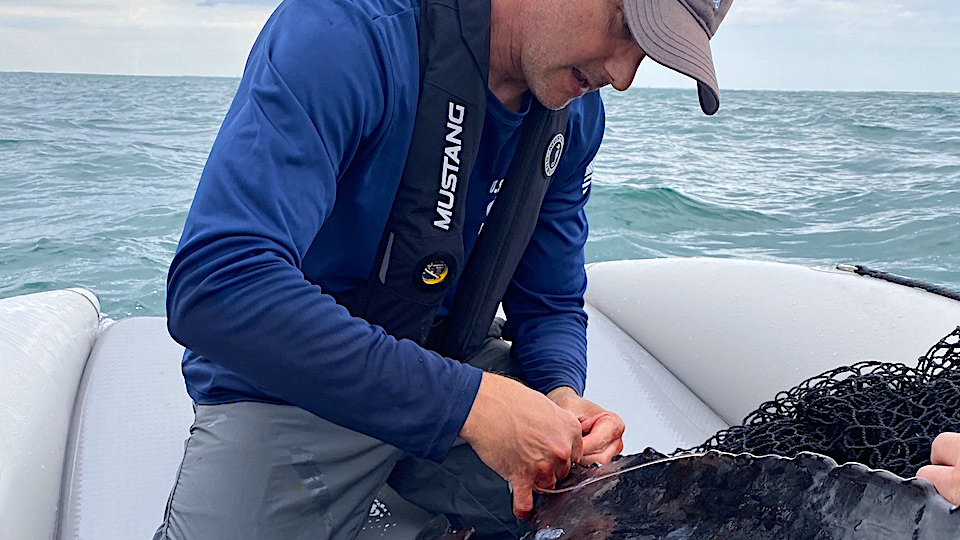 "NC State Center for Marine Sciences and Technology (CMAST) veterinarians Craig Harms, NC State College of Veterinary Medicine (CVM), Emily Christiansen (NC Aquariums and CVM), and Lori Westmoreland (NC Aquariums and CVM) participated in a leatherback sea turtle project with NOAA sea turtle biologists the past two weeks off of Cape Lookout.  The primary objectives of the project were to determine where turtles in this annual aggregation come from and where they go, by fitting them with satellite tags."
On their springtime migration, Leatherbacks congregate south of Shackleford Banks, feeding on cannonball jellies and working their way around the Cape to continue northward. They must be caught at sea, which is accomplished by the use of a spotter plane, a rigid hull inflatable boat with a bow pulpit, a hoop net, a small inflatable flat platform raft, and a crew willing to get wet.
Having hands on the turtles for tagging and measurements also provided the opportunity to collect blood for health assessments. Capture conditions this year were particularly challenging in overcast weather with wind and waves, but four new leatherbacks were captured and tagged, and are already providing tracking data.
Additionally, a leatherback was found severely injured by a boat strike, with propeller slices deep into the head and body cavity. It would have required euthanasia regardless, but it died on its own before a back-up team from CMAST arrived. From the abbreviated postmortem examination on the beach, the male turtle was found to be severely anemic from blood loss from the propeller wounds, and it had a flat piece of hard plastic lodged in the outflow tract of the stomach. Cause of death was head and body trauma with blood loss.
Another turtle that was captured and tagged had a large healing wound on the right side of its carapace (upper shell), likely a result of blunt force trauma from a boat prow.
Principal and co-investigators on the study are Chris Sasso and Larisa Avens, respectively with NOAA National Marine Fisheries Service.