Eggleston Earns Prestigious Stewardship Award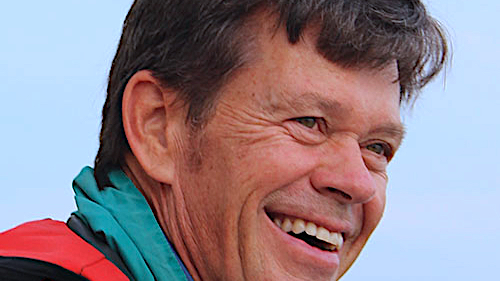 Congratulations to Dr. David B. Eggleston, who has been awarded this year's Margaret A. Davidson Stewardship Achievement Award by The Coastal and Estuarine Research Federation (CERF)! According to the Davidson Stewardship Achievement Award Committee, Dr. Eggleston is, "The consummate steward, focusing much of his professional career on the sustainable management of estuarine and coastal resources."
During his tenure as an NC State faculty member since 1993 and Director of the NC State Center for Marine Sciences and Technology since 2006, Eggleston has conducted research on the "biology and fisheries ecology of the blue crab, North Carolina's largest commercial fishery, and oyster restoration and sustainable oyster fisheries management. The rich and long-lasting impacts of these research programs inform state and national level resource management and restoration decisions."
Eggleston is known for his knowledge, expertise, stewardship of marine systems around the world. To his credit, he has:
Participated in the appraising coastal habitats of the Baltic
Conducted evaluation and management studies of fisheries to enhance stock in Japan and North Carolina
Conducted researched to understand the ecological effects of invasive beaver on stream and river ecosystems in Tierra del Fuego
Characterized inshore fish communities in Ghana, West Africa, the Caribbean, and the Gulf of Mexico
In addition, Eggleston has served as President of the Southern Association of Marine Labs (50 marine laboratories from Maryland to Texas, as well as Bermuda, Panama and the U.S. Virgin Islands) and a member of the Executive Advisory Board and is the incoming President of the National Association of Marine Labs.
According to the Davidson Stewardship Achievement Award Committee, Eggleston's peers noted his guiding management philosophy and his significant history of promoting stewardship of marine systems. One letter of support indicated that, "Dave's work is rooted in conserving habitats while also supporting sustainable fishing practices. He approaches every research question with a focus on the people who will be directly impacted by the results, and has consistently emphasized the importance of involving end-users, stakeholders, and local community members throughout the scientific process. His inclusion of historically excluded groups has resulted in many successful management outcomes that have critical support from the local community. He immerses himself in these communities to build trust and foster productive relationships and works collaboratively with them to build resilience."
The Davidson Stewardship Achievement Award Committee stated that these combined characteristics led them to select David B. Eggleston as this year's Margaret A. Davidson Stewardship Achievement Award recipient.
Eggleston says, "I am really honored by this award – Margaret Davidson was an incredibly strong advocate for community-based conservation of coastal resources, and I am also grateful to the CERF for this award. This award would not have been possible without the opportunity to learn from so many amazing graduate students and colleagues over the years."