Marine Ecology and Conservation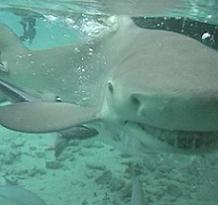 Our program emphasizes testing and refining general ecological theory and concepts in marine systems with the goal that answers will: (1) make important contributions to our understanding of ecological patterns and processes in marine ecosystems, and (2) be applied to sustainable management of natural resources and coastal communities. Examples of ecological theory and concepts tested include: (i) functional response framework for predicting predator-prey dynamics, (ii) optimization theory for predicting animal movement, (iii) metapopulation dynamics to assess population source/sink habitats, (iv) landscape ecological concepts to conserve and restore habitat, and (v) biocomplexity theory to understand resilient systems.
We use a combination of field observations, field and laboratory experiments, computer simulation modeling, and geochemical tracer and molecular tools to test assumptions and develop a mechanistic understanding of animal behavior, population connectivity and ecosystem dynamics.
Study systems range from tropical to temperate, and shallow estuarine to deep-sea. Study species range from marine and freshwater fish to macro-invertebrates, especially crabs, lobster and bivalves.
Research spans the disciplines of biology, ecology, physics, economics, mathematics, statistics, and chemistry. Graduates become future leaders in academia, research and management.
---
Videos
Please give videos a little time to load.
Oyster metapopulation Dynamics
Oyster restoration in Pamlico Sound
Impact of sport divers on spiny lobster
Endangered Estuaries: Blue Crabs
---
Lab News Archive
Winter & Spring 2015
Winter & Spring 2015
1) The Eggleston Lab has been busy participating in numerous national and local meetings and conferences, ranging from the Benthic Ecology Meetings in Quebec, Canada and National Shellfisheries Association Meeting in Monterey CA, to a NC Oyster Summit and NC Marine Science Connections Symposium in Raleigh, NC, to invited lectures at various universities.
2) Former PhD student and current post-doc Ashlee Lillis was awarded a highly competitive institutional, post-doctoral scholarship to the Woods Hole Oceanographic Institute (WHOI). Ashlee will be working on soundscape ecology and larval biology at WHOI with Dr. Aaron Mooney and his colleagues. Details of Ashlee's work is available at soundscapes.cmast.ncsu.edu.
3) PhD student Seth Theuerkauf was awarded a highly competitive graduate coastal research fellowship by the NC Coastal Reserve and NC Sea Grant to study Impact of an Invasive Species on Ecosystem Service Provision:Applications for Phragmites australis Management in the NC Coastal Reserve System
4). PhD student Doreen McVeigh was awarded the Best Student Presentation at the 2015 Benthic Ecology Meeting in Quebec Canada for her paper entitled: Population Connectivity of Methane Seeps in the Intra-American Seas.
5). Dr. David Eggleston was awarded the NC State University Alumni Distinguished Undergraduate Professor title. The Alumni Distinguished Undergraduate Professor Award, coordinated by the Office of the Provost and the Office of Faculty Development at NC State University, is one of the most prestigious undergraduate awards given at NC State.
6). MS student Shannon Brown's research on soundscape ecology will be featured in the summer 2015 issue of NC Sea Grant's Coastwatch magazine.
7). MS Student Katelyn Jenkins research on marine community assembly under a changing climate is adding a new and exciting DNA barcoding dimension.
Spring 2014
PhD student Seth Theuerkauf was awarded a very highly competitive 3-year graduate fellowship from the Department of Defense's National Defense Science and Engineering Fellowship Program for his proposal entitled "Hierarchical Habitat Suitability Modeling to Guide Shoreline Habitat Protection and Oyster Restoration." There were over 3,000 fellowship applications submitted! Seth was also the recipient of the 2014 Coastal Conservation Association of North Carolina Scholarship and the 2014 Beneath the Sea Foundation "Spirit of the Sea" Scholarship. Seth is also on the SciREN Leadership Team and is helping to organize SciREN Triangle, to be held on November 13th 2014 at the NC Museum of Natural Sciences – if you are STEM researcher or educator and would like to participate, please visit www.thesciren.org to learn more!
---
Former MS student Jason Peter's poster was awarded Best Student Poster at the Spring meeting of the American Fisheries Society in VA –his poster was entitled: "Spill-In to Marine Reserves: The Eastern Oyster Example".
---
Ashlee Lillis received her PhD and became of Post-doctoral scholar at NC State University—the second chapter of her dissertation was published in Marine Ecology Progress Series as the featured article entitled "Estuarine soundscapes: distinct acoustic characteristics of oyster reefs compared to soft-bottom habitats."
---
David Eggleston and Doreen McVeigh conducted their first DSV Alvin dives of 4,000 to over 6,000 feet in the Gulf of Mexico as a part of the SEEP Connectivity Research program.
---
Former PhD student & Post-Doc Brandon Puckett became the new Research Coordinator of the National Estuarine Research Reserve program in NC.
---
David Eggleston participated in an ICES working group in Lisbon, Portugal entitled " Value of Coastal Habitats for Exploited Species"
---
Former MS student Ray Mroch's thesis paper published in 2012 in the Journal of Shellfisheries Research was awarded Best Paper by a Student in 2012 by the National Shellfisheries Association at their annual meeting in March 2014 in Jacksonville, FL. His paper is entitled "Spatiotemporal Variation in Oyster Fecundity and Reproductive Output in a Network of No-Take Reserves". 2012, 31:1091-1101.
---
MS student Shannon Brown was awarded a graduate coastal research fellowship by the NC Coastal Reserve and NC Sea Grant
---
Post-doctoral scholar Dr. Brandon Puckett served on the planning committee for the recent Oyster Summit held in Beaufort NC during mid-March, and served numerous leadership roles in the Summit, as well as very effectively representing our oyster research program at NCSU.
---
David Eggleston co-hosted a fisheries workshop with Dr. Mary Fabrizio at VIMS entitled "Improving the Accuracy of Fishery-Independent Survey Indices"
---
Former MS student Robert Dunn is now in the joint doctoral program in Ecology at San Diego State University and University California-Davis.
---
Summer 2014
Dr. Ashlee Lillis received a grant from Project PADI AWARE for her proposal entitled "Racket on the reef: ambient reef sound as a coral settlement cue and the potential impact of anthropogenic noise". This research is being conducted in Curacao. In addition, the third chapter of Ashlee's dissertation was published in MEPS and entitled "Soundscape variation from a larval perspective: the case for habitat-associated sound as a settlement cue for weakly swimming estuarine larvae".
---
Congratulations to MS student Beatriz Perez for successfully defending her thesis entitled "Density and Diversity of Migratory Shorebirds and Their Prey in Hypersaline Lagoons of the Caribbean".
---
Winter 2014
---
2012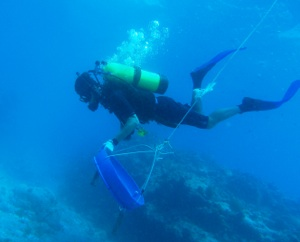 PhD student Ashlee Lillis win best student poster at the Tidewater Chapter of the American Fisheries Society (fisheries.org/) Meeting in Beaufort, NC during March 2012 for her project entitled: "Tuning Into The Sound: Estuarine Soundscapes and Larval Invertebrate Settlement Responses".
The Eggleston lab will be attending the Marine Benthic Ecology Meeting ) in Norfolk, VA during March 21-25 where they will be giving a broad range of oral and poster presentation.
Dave Eggleston will be hosting the Spring meeting of the Southeastern Estuarine Research Society (host.coastal.edu/seers/) in Morehead City and Beaufort, NC during April 11-13, 2012.
Dave Eggleston and PhD students Ashlee Lillis and Brandon Puckett will be participating in a research cruise on the RV Atlantis (http://www.whoi.edu/page.do?pid=8143) off Barbados during June 2012 in support of their collaborative, NSF-sponsored "Deep Sea Seep Connectivity" study. They will be joined by colleagues and fellow graduate students from Duke University and University of Oregon, as well as staff from the USGS, a science writer who will be blogging about the mission, and an artist who will document the animals collected.
Dave Eggleston is an invited participant by the International Council for Exploration of the Seas in a working group on marine habitat conservation in Copenhagen, Denmark during June 2012.
Two PhD research assistantships are available to join the Eggleston Lab and examine population connectivity of oyster metapopulations in Pamlico Sound and Deep Sea invertebrates at seep communities.