Soundscape – People
Dr. David Eggleston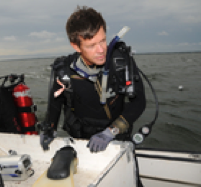 Dr. David Eggleston, Director of North Carolina State University's Center for Marine Sciences and Technology, has nearly three decades of experience studying a wide range of marine ecology and conservation topics.
As a Principle Investigator, he brings vast expertise in field ecology and experimental design to the project. Dave became interested in underwater sound as an influence on recruitment processes after reading early papers about coral reef fish responses to habitat sounds
Dr. DelWayne Bohnenstiehl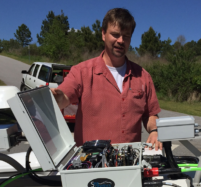 Dr. Del Bohnenstiehl is an Associate Professor in North Carolina State University's Department of Marine Earth and Atmospheric Sciences. As a geophysicist he uses a combination of active and passive acoustics to study a wide range of physical and biological processes in the oceans.
Del lends essential expertise in signal processing and underwater sound propagation. He works with students to analyze acoustic waveforms, develop call detection algorithms, and understand spatial and temporal variability in the marine soundscape.
Dr. Ashlee Lillis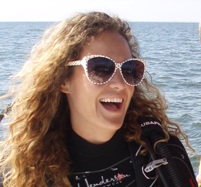 Dr. Ashlee Lillis, now a postdoctoral scholar at Woods Hole Oceanographic Institution, is a larval ecologist interested in how responses to environmental cues during early life stages influences the settlement and recruitment of marine organisms. For her Ph.D. work at NC State University, Ashlee investigated habitat-related soundscape variation and its influence on larval settlement. Before delving into the underwater soundscape world, she studied the effect of near-bottom flow patterns on larval lobster behaviour during her M.Sc. degree at Memorial University of Newfoundland and studied mussel settlement at University of British Columbia as an undergraduate. As part of the sensory biology and bioacoustics lab at WHOI, Ashlee is currently exploring the acoustic ecology of snapping shrimp, as well as working on projects related to coral reef soundscape ecology and larval recruitment.
Shannon Ricci, Research Technician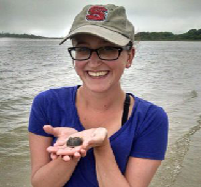 Shannon Ricci (Brown) recently received her MS degree from NC State where she explored spatiotemporal soundscape patterns and processes in the Rachel Carson Estuarine Reserve in Beaufort, NC. As a research technician she is continuing to research estuarine soundscapes, and is working to develop automated fish call detectors. Before working on estuarine soundscapes, she studied mud worms in oysters as an undergraduate at The University of Maine.
Olivia Caretti, MS Student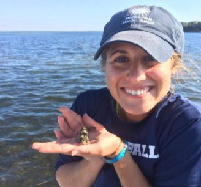 Olivia Caretti is an MS student in the Department of Marine, Earth & Atmospheric Sciences at NC State. She is interested in understanding how marine organisms interact with changing habitats and each other, especially in light of global change. Her MS thesis research will investigate the relationship between habitat complexity, biodiversity, and soundscape complexity on oyster reefs in Pamlico Sound. Before working on estuarine soundscapes, she studied potential impacts of exotic Asian tiger shrimp on native estuarine communities at the Dauphin Island Sea Lab, and crab community responses to climate driven habitat shifts in seagrass and mangrove/salt marsh communities as an undergraduate at St. Mary's College of Maryland.
Kayelyn Simmons, PhD student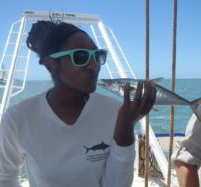 Kayelyn Simmons received her MS degree from Nova Southeastern University where she researched the parasite diversity within the lionfish complex, Pterois volitans/miles, in the Western Atlantic, Caribbean, and the Gulf of Mexico. For her doctoral research at NC State University, Kayelyn will explore how coral reef soundscape characteristics reflect reef fish biodiversity and habitat complexity. Using the Florida Keys National Marine Sanctuary as her study system, she plans to observe the relationship between these eco-acoustic metrics across non-fishing and fishing management zones (i.e. Special-Use Areas, Sanctuary Preservation Area, etc.). Additionally, she will investigate whether passive acoustic methods can further be developed for species-specific behavior, such as identifying sounds related to herbivorous fishes grazing on algal covered reefs (see Tricas & Boyle 2014).