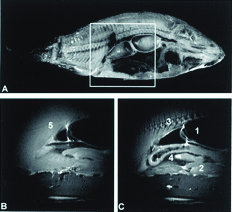 CMAST hosts the only horizontal, large bore, high field resonance imaging and spectroscopy magnet devoted to the in-vivo study of marine and aquatic biota in the U.S.
Funding for this facility was provided by a grant from the National Science Foundation, cost-sharing from NC State's Office of Research Innovation and Economic Development, funding support from the NC Biotechnology Center. This facility will be operational in winter 2015.
The magnet's capabilities will be unique, moving the U.S. to the forefront in the study of aquatic and marine adaptations and responses to environmental changes. Designed to facilitate collaborative investigations by university, government, and industry scientists, the facility provides support to scientists wanting to apply the technology to their own research.  It also provides magnet time to student research projects.  The flexibility of the instrument allows scientists to study questions ranging from how sea food spoils, to how toxins, drugs or even environmental stressors affect the physiology and biochemistry of marine animals.
Personnel
Scientific Co-Directors
Jeffrey Macdonald, PhD – physical and equipment
Michael K. Stoskopf, DVM, PhD, D.ACZM  –  biological and administrative
Staff
Kenny Donnelly. Ph.D – Electronics Specialist
Heather Broadhurst – Technician.