The Science House Partners with CMAST to Provide Education Outreach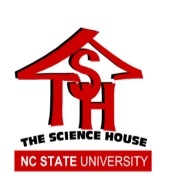 OCT 20, 2013: CMAST now houses an outreach office of The Science House.  The Science House annually reaches over 5,000 teachers and over 36,000 students from six offices spread across the state. Their mission is to work in partnership with K-12 teachers and students to promote the use and impact of hands-on inquiry based learning in science, technology, engineering and mathematics (STEM).
The Science House at CMAST (TSH@CMAST) will provide services, programs and develop partnerships with Carteret, Craven, Jones, Onslow, and Pamlico County Schools.
A department of the College of Sciences, The Science House is located amid the high tech facilities of the NC State University Centennial Campus, and includes 8,400 square feet of classrooms, offices, a teaching laboratory, and a computer-learning center. Additional regional outreach offices are located in Edenton, Lenoir, and Asheville, NC and are hosted by school systems or education agencies to serve their surrounding communities and schools.
The Science House website, www.thesciencehouse.org is a well-known resource in STEM education with millions of visitors each year from across the USA and internationally.
The presence of The Science House will greatly enhance our capability of reaching our strategic goal of increasing public information and educational outreach by linking the research at CMAST to the needs of K-12 STEM education through teacher professional development programs, loans of laboratory equipment, the development of learning materials and programs and facilitation of student enrichment activities and research projects.
For more information about The Science House go to www.thesciencehouse.org