Seafood Lab Summer
The NC Seafood Lab is excited about a program is being developed at East Carteret HS and Hatteras HS by Karen Amspacher, Director of the Core Sound Waterfowl Museum and Heritage Center on Harkers Island in Carteret County. It is an amazing story done well in our public schools! The video can be seen here:
The Seafood Lab also participated the week of June 20 at the 9th Brad Sneeden Marine Science Academy. The program is named after the former Carteret County Schools Superintendent who passed away unexpectedly. Mrs. Sneeden is in the picture above, on the right (in yellow).Mrs Sneeden and a number of local organizations sponsors a week long event for 30-40 middle school students and 6-8 teachers.
The Seafood Lab invited Zack Davis to speak on wild harvest of shrimp. Zack began commercial fishing at the age of 12 and has been fishing for 20 years. He is a teacher at East Carteret HS and is developing a marine trades curriculum for students interested in learning about the seafood industry and heritage of coastal communities.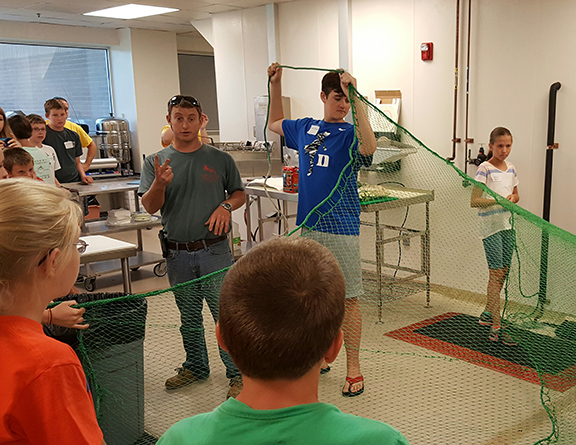 The demonstration was followed up by a presentation on handling seafood and and shelf life by our two CMAST Summer Scholars, Corrine LeBlanc who will be a junior at NC State this fall majoring in Food Science and Johanna Woods who is a senior at NC State and will attend UNC Wilmington majoring in aquaculture.
And of course, the Seafood Lab served fresh local shrimp. The shrimp was prepared both steamed and batter and breaded with fried broccoli, cauliflower and squash. Needless to say, there were no leftovers and the students and teachers raved about the local foods program.