Pelican Patched up at CMAST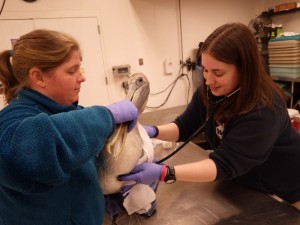 On Wednesday, January 15th, 2014, a juvenile brown pelican was witnessed by Carteret Community College students and staff exhibiting abnormal behavior.
CMAST staff from NCSU-CVM were contacted to observe and examine the bird. Veterinarians Dr. Emily Christiansen and Dr. Jennifer Niemuth (pictured on the right) assessed the health of the pelican through a physical exam and bloodwork.
Determined to be moderately anemic and in very thin body condition, the pelican was transported to the Outerbanks Wildlife Shelter in Newport NC for rehabilitation. (Thanks to Heather Broadhurst for reporting and photos)