Start-Up Holds Marketing Summit at CMAST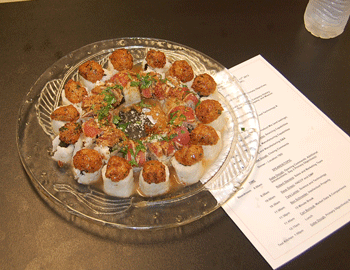 (JAN 8, 2014) It is not often we are asked to participate in a new business start-up, but that is exactly what happened at CMAST recently. Shure Foods, Inc. of Greenville, NC held its first marketing summit on December 9-11 in Morehead City.
The local company was founded in 2006 and is refining its patented process technology with help from the NC Biotechnology Center's Inception Loan Program and Collaborative Funding Grant with NC State University scientists in the Department of Food, Bioprocessing and Nutrition Sciences.
NC State researchers Dr. Tyre Lanier, Professor in the Department of Food, Bioprocessing and Nutrition Sciences and Dr. David Green, Director of the Seafood Laboratory at CMAST are working with Gabe Dough, President of Shure Foods, on standardization of the cold-structured (raw) crab product and development of product applications utilizing the new technology.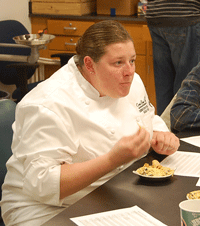 Dough held the Shure Foods marketing summit at CMAST in the Seafood Laboratory, which includes a product test kitchen, pilot processing facility and analytical laboratory. "CMAST was an ideal place to meet to not only utilizes the processing facility, but we were in close proximity to food scientists and other local experts involved in our product development efforts," Dough remarked.