Carteret Country Students Get Hands-On Experience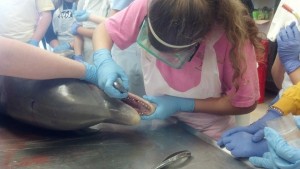 Students at Harkers Island Middle School and East Carteret High School had the opportunity to witness and participate in dolphin necropsies at CMAST recently.
This program was the brainchild of CMAST and DMF's Vicky Thayer, who is the Stranding Coordinator for the North Carolina Central Coastal Stranding Network. Her daughter, Lindsey, is an ECHS student, and at an open house at the high school, Thayer was speaking with Ms. Saunders, an ECHS teacher, and they agreed the students would benefit from seeing and perhaps participating in a dolphin necropsy. These necropsies are performed frequently at CMAST.
"Working side by side with a group of East Carteret High School students to learn about bottlenose dolphin anatomy (and attempting to discover the cause of the dolphin's death) was an amazing learning experience for the students," Thayer said.
"CMAST and NC DMF staff were inspired and impressed by the students' curiosity, great questions and hard work. The high school teacher, Ms. Sanders, did an excellent job of preparing the students. We hope to continue this collaboration every year."
A week later, the process was repeated, this time with Middle School students from Harkers Island. Both programs were a success, and there are plans to make this a more regular program in the future.
The ECHS experience was captured in photos below by Keith Rittmaster, NC Maritime Museum.