ROVs Used to Introduce Students to Marine Technology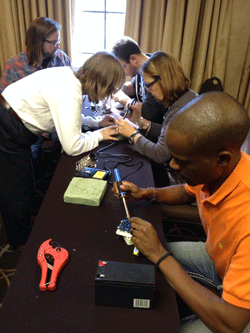 The Science House at CMAST is continuing to integrate a coastal theme into Science, Technology, Engineering and Mathematics (STEM) education. It has begun an initiative using underwater Remotely Operated Vehicles (ROVs) to provide teachers with resources for introducing students to marine technology and engineering.
Dr. Pat Curley, Director of the Science House at CMAST has participated in workshops with both NOAA and the Office of Naval Research to learn how to design ROVs and develop teacher workshops and activities on how to use them to teach STEM in their classrooms. The Science House has conducted a ROV workshop in December to Onslow County teachers who are participating in a Math and Science Partnership grant entitled-Project Based Math.
The next ROV workshop will be conducted Saturday, 15 February at CMAST. Teachers participating in the Coastal Connections Mini Conference, a collaborative effort between the Science House at CMAST and the NC Science Teachers Association, will meet with representatives from the NOAA Education and Outreach office of the Monitor National Marine Sanctuary will be showing teachers how to make ROVs from materials found at local hardware and marine supply stores.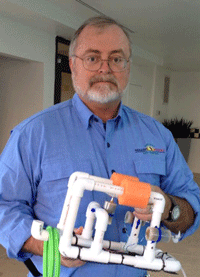 The Science House is working on several grant proposals and community partnerships to expand the ROV program into the local schools and host an annual ROV competition.
For more information contact Dr. Pat Curley at pwcurley@ncsu.edu