NC State CVM Students Visit CMAST for Fish Medicine Selectives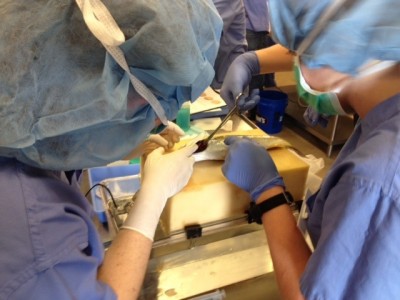 Twenty-two first and second year veterinary students attended the Advanced Fish Medicine Selective, held at NCSU-CMAST for the first time in the last week in April.
In past years, this one week intensive course has run at the NCSU College of Veterinary Medicine. Bringing the course to the coast has some great advantages: the aquatic environment right outside the lab and lecture space, as well as extensive collaboration with other NCSU researchers, the NC Aquarium at Pine Knoll Shores, and the CCC- Aquaculture lab.
This group was made up of first and second year veterinary students. The course is offered through the CVM as one of the selectives available to CVM students throughout their 4 years at the vet school.
The Selective Instructors were Dr. Craig Harms, Dr. Greg Lewbart, and Dr. Lysa Posner. Dr. Lewbart and Dr. Posner are faculty that mainly teach at the CVM campus.
The course focused on the health management of a wide range of fish species, exposing the students to many aspects of fish medicine that occur in clinical, laboratory, and field settings. Students participated in lectures as well as several hands-on labs including surgery, diagnostic techniques, water quality assessment and necropsy. There is a growing demand for veterinarians trained in this field and this course provides exposure to fish medicine as a potential career path.
The fish studied were housed in the outdoor hoding system of the Carteret Community College Aquaculture lab.
Using Weakfish for the surgery component of the course helped to provide essential data for a research project currently being conducted by CMAST's Jacob Krause, a Ph.D. student studying under Dr. Jeff Buckel. Jacob Krause collected all the fish locally.
(Thanks to Heather Broadhurst for photos and story assistance)