Successful Release of Hooked Kemp's Ridley Sea Turtle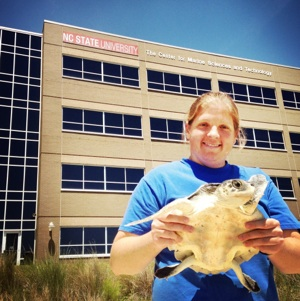 This sea turtle was incidentally caught on a hook and line by a recreational fisherman and was brought to CMAST by a NCWRC biologist to be examined by Dr. Emily Christiansen. The hook was deep in the esophagus and somewhat challenging to remove, but appeared to have caused minimal damage. Following the hook removal and diagnostic blood sampling, the turtle was determined to be healthy and was released immediately from the sound-side beach at CMAST.
If you encounter any stranded or injured sea turtle, please call the NC Sea Turtle Hotline at (252) 241-7367. If the turtle has swallowed a hook, the best thing to do, before calling for assistance, is to leave several feet of line attached and tape it to the shell of the turtle so it cannot be swallowed. This fishing line helps veterinarians locate and remove the hook, giving the turtle the best chance of a happy outcome!
(Thanks to CMAST's Heather Broadhurst for story and photos)