Stranding Team Responds to Bottlenose Dolphin Stranding on Ocracoke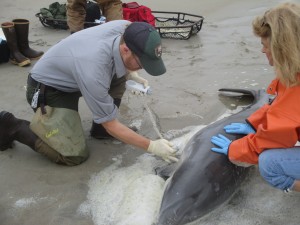 The DMF/CMAST stranding team responded to the stranding of a bottlenose dolphin early Monday morning. The team, led by Dr. Vicky Thayer of NC DMF/CMAST, took the 7 am ferry to Ocracoke to meet Cape Hatteras National Park Service biologists Paul Doshkov, James Yrigoyen, and William Thompson at the stranding site. Dr. Thayer was accompanied by Keith Rittmaster of the NC Maritime Museum and Jill Sullivan of the stranding team.
The stranding was reported by Lisa Adams at 4 am on Monday. Ms. Adams, who happened upon the distressed dolphin while out on the beach trying to tackle her insomnia, stayed with the animal until the stranding team arrived.
Yrigoyen and Thompson euthanized the dolphin after consulting with CMAST's Dr. Craig Harms and Blair Mase, NOAA regional stranding coordinator. The dolphin was transported back to CMAST for necropsy that evening.
Each stranded marine mammal necropsy provides an unparalleled opportunity to enhance our knowledge about the natural and anthropomorphic variables that may affect marine life. Samples from this dolphin were sent to UCDavis to test for Morbillivirus.