CMAST Sea Wolves Place in Coastal Envirothon Competition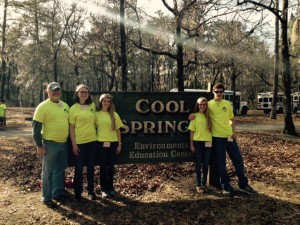 Congratulations to the CMAST Sea Wolves who competed in yesterday's Coastal Envirothon, held at The Weyerhauser Cool Springs Environmental Education Center in New Bern. They placed at the top of the teams from Area 6 of the NC Association of Soil and Water Districts, qualifying them to move on to the State competition, which will be held at the Cedarock Park in Burlington on April 24th and 25th.
The Sea Wolves is a 4H Program for Middle and High School students interested in Environmental and Marine Sciences. They are one of the many educational outreach programs offered by The Science House at CMAST. The Sea Wolves hold monthly meetings and focus on activities centered on coastal marine sciences and leadership. The Envirothon Team consisted of 4 students from East Carteret High School- Senior; Sabrina Carraway, and Juniors; Cassie Gutherie, Nadine Gutherie and Derek Nicholson. Dr. Pat Curley, Director of The Science House at CMAST serves as their coach.
The Envirothon is North America's largest environmental education competition. Reaching more than 500,000 students across North America annually, the Envirothon succeeds in its mission to develop knowledgeable, skilled, and dedicated citizens who are willing and prepared to work towards achieving a balance between the quality of life and the quality of the environment.
Through participation in the annual competition middle school and high school teams compete for recognition and scholarships by demonstrating their knowledge of environmental science and natural resource management.
The teams, each consisting of five students from participating schools, home study groups and environmental clubs, exercise their training and problem-solving skills in a competition centered on five testing categories: soils/land use, aquatic ecology, forestry, wildlife and current environmental issues. High School teams have the added component of an Oral Presentation that requires the students to assemble their knowledge of all the tested subjects and use critical thought to solve a complex environmental problem and present their solution to a panel of judges.
In North Carolina there are 8 regional or Area Envirothons, broken up by counties. These Area Envirothons serve as qualifying events for the state level Envirothon competition. All teams must first register and participate at an Area Envirothon. The top 7 middle and high school teams, plus the top placing FFA high school team, will advance on to the state level NC Envirothon.