The Science House @ CMAST partners with The Bridge Downeast
(This article is reprinted from an article by Cheryl Burke in The Carteret County News-Times).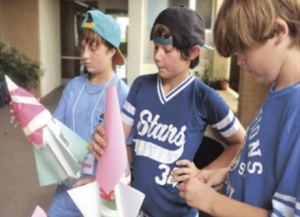 Landon Tunstall, a rising eighth-grader at Down East Middle School, is interested in engineering and science. He wants to be a pilot when he grows up.
"My favorite subject is science and I'd like to be in the Air Force or Navy. When I retire from that I'd like to be an airline pilot," he said as he built a bottle rocket as part of an engineering activity during a unique summer program being offered by The Bridge Downeast, a nonprofit organization.
On Monday, the group began offering the free six-week summer program, which focuses on science, technology, engineering and math (STEM), at Harkers Island Elementary School.
There are 76 students in grades Kindergarten through eighth enrolled in the program, with an additional 15 on a waiting list.
The Bridge Downeast is presenting the program thanks to grants and a partnership with The Science House, offered by NC State University through the Center for Marine Sciences and Technology (CMAST) in Morehead City. The organization will also offer an after school program this fall.
Dr. Patrick Curley from CMAST is overseeing many of the activities with the help of students in the 4-H Sea Wolves program, which is offered to middle and high school students interested in environmental and marine sciences. The Bridge, with the help of 4-H, will soon begin its own Sea Wolves chapter.
Dr. Curley is also offering instruction to teachers and parents working with The Bridge Downeast.
The Shodor Education Foundation of Durham, a non-profit computational math and science institute, will provide STEM instruction for two weeks during the summer.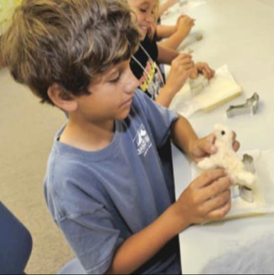 In addition, students are receiving art instruction thanks to Morehead City Elementary School art teacher Emily Wikoff, who is coordinating a wide variety of art activities. These include bringing in guest artists to lead students in hands-on activities. For instance, elementary-age students were learning howto create small animal figures from alpaca fleece, under the guidance of Louann Sekely, owner of Alpacas of the Crystal Coast, an alpaca farm in Ocean.
For its second year, The Bridge will offer free after-school programs during the school year. The program will be offered at Smyrna Elementary and Down East Middle School, also on the Smyrna campus. the group plans to start a second after-school program at Atlantic Elementary School.
The plan is to move these programs later this year into a 3,000-square-foot prefab building that will be erected on property donated to The Bridge Downeast. Last year Ed Wheatly of Beaufort donated a 1.25 acre tract behind Wheatly Boys Tire & Auto in Otway for the new youth center that will also be used for senior citizen activities and other community events.
The Bridge received a $300,000 special appropriation in last year's fiscal state budget to purchase the building. The septic permits were issued for the building earlier this year.
Marilyn Springle, a member of The Bridge Downeast Board of Directors, said they hope to have the building finished and ready to open by the end of this year.
The Bridge also received a $400,000 federal 21st Century Community Learning Centers Grant last year through the state Department of Public Instruction. The money is being used over a four-year period to fund an after-school program for at-risk youth from Smyrna, Harkers Island and Atlantic, as well as the summer program.
The summer program is offering many hands-on activities as well as field trips. It operates 9am to 4pm, Monday through Thursday.
Because some parents need additional hours of care for their children, The Bridge is offering childcare from 7:30 to 9am and 4 to 6pm for a small fee.
Otherwise, the summer program is offered to families at no cost because the 21st Century Community Learning Centers Grant covers it.
Ms. Springle said the group is providing transportation to and from the summer program for the majority of the participants
"This is quite an undertaking," she said. "We are using The Bridge Downeast's two vans and also a church from farther Down East is allowing us to use their van everyday to provide the transportation for kids from the Atlantic area."
A free breakfast and lunch is provided to each child through the school system's child nutrition program, which received federal funds to feed low-income children this summer. Meals are prepared at Beaufort Elementary School, so workers with The Bridge Downeast drive to Beaufort Elementary each day to pick them up and transport them to Harkers Island Elementary.
Additionally, if any area parents want their children to have a free breakfast or lunch, they can call Beaufort Elementary with the other meals, and parents can bring their children to the school to eat them on the premises.
Ms. Springle said the summer program has an average teacher or teacher assistant to studio ratio of 1:8.
"We are spending about $900 per student for the summer program," she said.
Ms. Springle added that The Bridge had its first financial audit and program audit by the N.C. Department of Publi Instruction in May, and received an "excellent review on both accounts. In fact, the state's overall 21st CCLC program administrator, Dr. Ed Bell, asked us why we didn't ask for more money in our grant. He felt that we could have used more money since we have been so successful."
Ms. Springle said The Bridge has a waiting list for its programs. "It has exceeded our wildest imaginations," she said. "Dr. Bell also asked if he could use some of the forms we craeted and some of our ideas and procedures to share with other programs across the state."
Ms. Springle said the majority of participants live in the Smyrna area, with about 13 from Atlantic and two from Harkers Island. "In the fall we intend to begin a satellite program at Atlantic school in order to accommodate more kids from that area," she said.
Students participating in the summer camp, such as landon, said they're enjoying the activities being offered. "We're learning stuff that will give us more experience in life so we can do better things," he said.
Rising Smyrna Elementary fifth-grader John Cooper Mason, too, said he's enjoying the camp. "I think it's cool," he said as he created a small dog figure by stuffing alpaca fleece in a cookie cutter shaped like a dog. "I'm glad they're doin it."
Coordinating the summer program along with Ms. Wikoff is Carlie Garland of Harkers Island, who graduated in 2014 as a homeschool student. Ms. Garland, 18, used to visit The Bridge Downeast when it offered games and activities at the East'ard Variety Store on Harkers Island. She's now enrolled in the Associate in Science university transfer program at Carteret Community College in Morehead City, and is considering becoming a teacher.
She also worked last year as a teacher's assistant with The Bridge after-school program at Smyrna, and plans to continue that while she attends CCC.
"I really enjoy this. I think this program is awesome and I want to do something to impact these young people's lives," she said.