McClellan-Green Honored
The CMAST Summer Fellows program was started and nurtured by Dr. Patricia McClellan Green for ten years, before her untimely death in 2014. To honor her and the profound effect she had on so many young students, NC State changed the name of the Summer Fellows program to the Dr. Patricia McClellan-Green Summer Fellows Program at CMAST.
"Pat was an integral part of our CMAST family," said Dr. David Eggleston, director of CMAST. "Naming the CMAST Summer Fellows Program after Pat recognizes her dedication and commitment to all students and enthusiastic support of educational excellence at CMAST."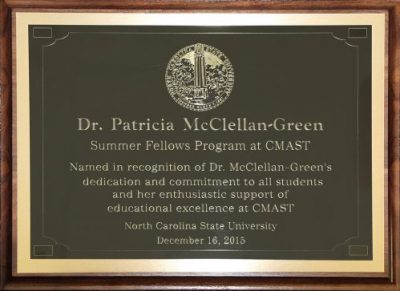 While working at CMAST, Dr. McClellan-Green served as the undergraduate student coordinator from 2005-2014, and managed the Summer Fellows Program from 2005-2009 and 2011-2013. She supervised over 75 undergraduate independent study projects over her career.Established in 2005, the Pat McClellan-Green Summer Fellows Program at CMAST supports summer interns working at CMAST. The 10-week summer program is available to any university or community college undergraduate student, as well as rising seniors in Carteret County or area high schools.
Students are provided a stipend and assigned a mentor to help design an independent study project as part of ongoing research at CMAST with graduate students and professional staff.
The students must write up a final report and give oral presentations of their results. Summer Fellows work alongside other undergraduate and graduate students working at CMAST.
Weston Smith, now a post-doctorate research associate at the UNC School of Pharmacy, was one of the 2006 Summer Fellows who studied under the program's namesake, Dr. McClellan-Green. Dr. Smith found her instruction and attention to his work to be life-changing:
"All scientists owe a great debt to the mentors who privided them with early opportunities and guidance," he said. "Pat gave me my first independant research project as a sophomore in college and later assisted me when I applied to graduate school. I will always be grateful to her for giving me a great start in my scientific career."
Funding for 2016 is provided through CMAST in support of 3 to 4 summer undergraduate students. This year's 10-week summer research program will take place May 31 to August 5, 2016.